Backupsheep | It is important to use a reliable backup service to back up your server database, and all data on the website. You can back up your data anytime with this backup service.
You want to have a backup behind your cloud server or website but can't find the right backup service. At work, it will put you much ahead and help you save all your data. You can back up the data anytime.
But if your cloud server and website data are lost in any way, you will not be able to find them. This can lead to many problems at work. And the backup system is something that is not done due to various engagements.
Data backup is very important for any business or its solution. You need to find a reliable backup service solution whenever you create a project and when you host it on the web.
So through this article, you will find the right way to back up all the data of your cloud server, database, and websites automatically.
BackupSheep is a backup platform that can back up all your website data, including your cloud server. It is a reliable backup platform through which you can easily get backup problems solved.
BackupSheep allows you to complete your backup process automatically. An update may accidentally delete all your files.
But if you have a backup service connected to your server, you can easily back up all the data on the server in case of an accident.
if you fail to select the correct backup service Don't worry. We will look for a reliable backup service for your needs and highlight its advantages and disadvantages. So stay with us.

What is Backupsheep?
BackupSheep is an automation backup tool that lets you provide backups for your cloud server, database, and file server.
BackupSheep without any coding ‍automatically simplifies. And complete the backup work by connecting all your cloud hosting accounts with it.
Backupsheep scans this server daily to provide up-to-date backups of all your files. It is an automated backup service for cloud servers.
Backupsheep tool is easy to use and gives its users peace of mind, keeping all their data safe.
The service offers a variety of features, including the ability to back up files, folders, and databases. It also has a recovery feature that can be easily restored at any time if users' data is ever lost or damaged.
And for that, a reliable backup service is very important for any business to save its data.
You can use the universal API to automate snapshots with major cloud providers the big advantage is that you never have to edit backups manually.
Backupsheep allows you to dispose of the expensive backup option to your cloud server.
The tool supports 11 storage providers, including Amazon Web Services, Digital Ocean, Dropbox, and Google Drive.
It saves a lot of storage backup at once and can be easily downloaded with one click. There is no problem with the code.
BackupSheep lets you manage all your backups via one dashboard. This will enable you to configure all your data to your liking. No need to worry about losing all your data.
Your cloud servers, databases, and file servers manage a dashboard. You do not have to do any extra work on these tools.
It is a backup service that automatically saves all your working files. If you accidentally lose any data, you can easily download the backup file through BackupSheep.
And it increases your interest in the work. In many cases, an accident can happen while working with different data together.
And when a valuable database is lost, it is no longer possible to back it up.
Then you have to do all the work again which can be a great loss of your time. And to solve this problem, it is very important to use a reliable backup service.
BackupSheep which is itself a backup platform, you can easily backup all the data of your WordPress website c-panel anytime through this backup service.
And it's up to date with your work as it will update its dashboard.
BackupSheep lets you connect to a cloud hosting account, database, website, or storage integration without any hassle and then automates its backup process.
Backupsheep provides a simple automatic cloud backup for your applications and you can set the backup time in its settings panel so that it is automatically triggered at the intervals you choose.
BackupSheep will greatly increase the speed of your work and free you from the worry of losing data.
This will allow you to easily back up all your data without any hassle of coding. So get the best BackupSheep tool right away as a part of your business.

Features of BackupSheep Review
It is important for an online business to use a reliable backup service to store data on all its servers.
BackupSheep is a backup tool that will bring you a lot of benefits. It includes storage platform and you can use SSH. This tool has a database.
You can see more Mysql, Post SQL, and MariaDB. Under its integration is Cloud Provider and you will see that AWS Digital Ocean includes storage platforms including Dropbox, Google Drive, Filebase, and so on. It has a web server that is only SFTP / FTP.
Backupsheep is not just a website, so you can use this reliable backup tool. You can change its settings and schedule at any time.
If you want, you can backup the data through it every day and you can download the backup file by setting a specific time.
Suppose, you have selected a specific time and you have to have ten backups in a day. This way you can work with this tool.
This is a really cool tool that allows you to set up multiple locations.
BackupSheep This backup platform will make you more secure because if you have a physical accident while working on this server, there is no reason to worry, you can easily get backups to another place.
You can schedule if you want to do automatic backup at a specific time. Your backup update will be notified via email.
When you connect a server to this tool you need to fill in some information like where the data will come from, name, hostname, etc You need to set the number of backups, the time, and where the backups will be saved.
Then the backups you set up will continue to be backed up in a specific place. Backupsheep tool is a powerful platform for your server.
You can use it with your server. Here are some of its features that are very different from other backup platforms:
Crontab Syntax
Create multiple backups per node by creating multiple schedules.
Create an automatic backup ‍system using the BackupSheep Settings API.
Timezone Aware
Back up the server files at a specific time using Crontab Syntax.
On-Demand Backups.
All future plans of this tool will have unlimited updates.
Multi-Schedule
You will get access to it for your life.
It supports multi-schedule.
Offsite Storage – Dropbox, AWS S3, DigitalOcean Spaces, Google Drive, Filebase, Wasabi
With the software, you will be able to easily back up the cloud server, storage volume, file server database, etc.
Infrastructure
This software will save you a lot of time at work.
Multi-Region support.
Backupsheep platform will become more attractive in the future. Such a backup platform is much more important for a trader. The importance of such a reliable backup platform for keeping all the data of any platform is incomparable.
So I would say stay tuned for a lifetime with such a platform for data

backup services for all your servers.
Cloud Integrations
Digital Ocean
OVHcloud
VULTR
AWS
Amazon Lightsail
HETZnER
UpCloud
BackupSheep Supported Databases

Storage Backup For Cloud Servers
Google Drive
BackBlaze B2
UpCloud
Filebase
DigitalOcean Spaces
Wasabi
AWS S3
Dropbox
Linode Storage
UpCloud Storage
Exoscale Storage
Vultr Storage

How BackupSheep Completes the backup work
To work on online platforms we need to be connected to different servers And there is a lot of work to be done. A reliable backup platform is very much needed in case of messing up the data of different servers and losing a lot of data.
BackupSheep Platform is a reliable platform where you can enjoy your work and use this tool very easily without any hassle.
It can back up all files by connecting to your web server. After connecting to your cloud server's API in the settings panel of the Backupsheep software, this tool will automatically back up all the data and save it to the dashboard.
You can download your backup file whenever you want.
This platform is a reliable platform, This will keep all your server data Arranged while it is working. You can save the backup at that time by setting the time in its settings panel.
BackupSheep includes unlimited nodes through which you can manage as many applications as you want.
Once it is integrated, you need to set up memory for each node to hold its backup file, which is a very important task.
When you back up data from a server, you will be able to download the backup through it after setting up the hostname, etc. of which server it will come from.
You can also do this if you want to automatically back up your data through this tool. You can use this software as you wish.
This is a great backup platform for every business and it has really great features.
If you have a lot of servers, this will be the best platform for you to control the data of that server.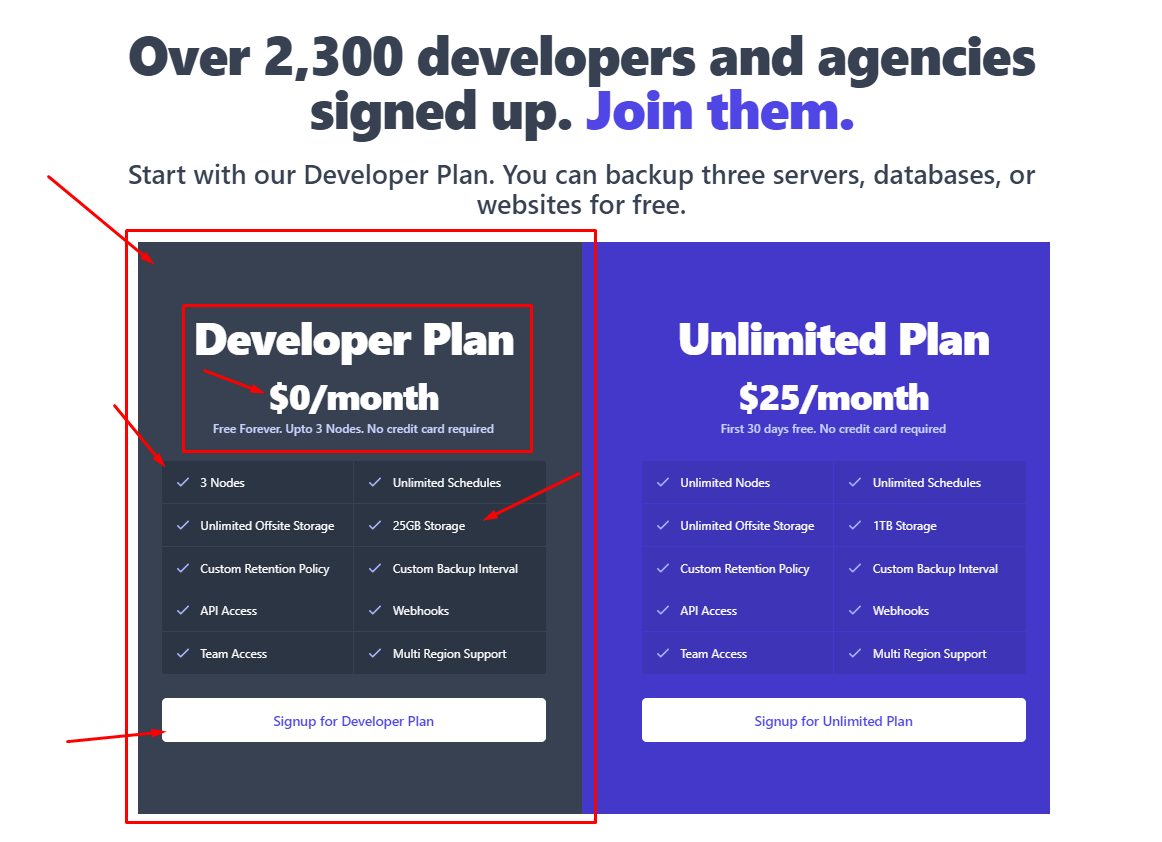 How much can a BackupSheep cost? Backupsheep Pricing
Backupsheep tool enables users to back up server data to the cloud. You will get the benefit of unlimited storage with the backup of all your servers.
This is very important for your business. Replacing cloud backups is very expensive from this, this tool is very valuable in terms of money.
You can avail of the services of this software at any time as it has a free plan where you will get 25 GB storage and three nodes.
You can now avail the services of this platform. This is a nice platform and can be worked on very easily here.
You can get many benefits by using its free plan. When you have an unlimited plan, you can take it after enjoying all the benefits.
There are thousands of users on the BackupSheep platform and everyone is taking advantage of it.
It is much more effective and at a much lower cost, it offers more benefits. So I would say use its free developer plan today and keep your business with this platform.
Advantages of BackupSheep Review
Backupsheep is one of the most backup platforms available online.
Data from any website or server through this tool can easily back up. You can enjoy all the benefits of this backup platform at any time as it offers free 25 GB storage and 3 nodes.
So you can verify it very easily. Its advantages over other backup platforms are far ahead such as: –
This platform provides free 25 GB storage and 3 nodes. Which will be able to verify it in the new Situation.
It encrypts all backups in storage and the data is much more secure.
Allow External storage accounts
It is very easy to use.
This allows you to back up any type of website.
Easy Backup scheduling
This is very useful for cloud hosting and VPS users.
It has a lot of integration and more are being added upfront.
User-Friendly interface
When you use its free developer plan you will see all its benefits. It is easy to use and you can use it easily.
The difficulty of BackupSheep Review
In my opinion, most of the advantages outweigh the disadvantages of this platform.
However, some of the features have not been added yet, but all the features will be added soon. Look at the current disadvantages.
Need to download and upload it manually.
Different integration Need to set up.
And the One-Click Restore feature hasn't arrived yet.
You can use its free developer plan anytime you want. It will not cost you anything so take advantage of its free developer plan today and see all its advantages and disadvantages.

Some of my words about the BackupSheep
When working on online platforms different data needs to be secured. Due to various engagements, there is often no opportunity to back up the required data. However, if the required data is lost, it is no longer available.
Then the desire to work decreases a lot. To save all data on the server Behind any of your small or big businesses Add a backup platform.
This will get rid of the worry of losing any data. From my point of view, this Backupsheep platform is much better.
Because it can be done very easily work. Without any hassle, It can be used happily. And there are many benefits to using its free developer plan.
So I would say take its services to keep the data of all your servers secure. Remember, this is a reliable backup platform.
Last Talk about the BackupSheep Review
All online businesses, small and large, use a reliable backup service to secure data from different servers. Backupsheep is a reliable backup platform. Its advantage is far ahead of other platforms.
Protecting server data is a very important task. And once this tool is set up, it automatically runs.
You don't even have to worry about it until you need to restore the backup. Backupsheep is a great and solid backup platform Its recovery process is really advanced.
This allows you to recover files in minutes. There are free plans to verify this. Then why the delay. Automate your backups today with BackupSheep.
And add it to your business and eliminate the worry of losing data.
Sign up for its free trial today to learn more about its powerful backup solution.
1. How BackupSheep work?
➾ It works as Saas with an automated solution, restoration, and reporting of backup failures.
2. Can I back up data to any server?
➾ Yes, this will enable you to back up all server data and do it very easily.
3. How much free storage is included?
➾ When you signup for a developer account, you get 25GB, and with an unlimited plan, you get 1TB of default storage. You can use Backupsheep default storage to store website and database backups. If you exceed your allocated storage limit, you pay just $0.010/GB or $10/TB.
4. What is the durability of the BackupSheep?
➾ Backupsheep is a reliable backup platform and it is getting more and more advanced day by day adding many benefits.
5. How much does it cost?
➾ This backup platform has a free developer plan. You can use 25 GB storage and 3 nodes for free to verify this.
6. Do I have to do any coding?
➾ No, this platform works automatically without any coding.
7. How do I get help if I have a problem at work?
➾ If you have any problem using it, you can contact us directly.
8. Where is BackupSheep located?
➾ Backupsheep is registered and operated from Canada. Click here to read more about the company.
9. Other questions?
➾ We're always available to visit our Help Desk